Piggly Pines/Boz Saddlery/Bozzage Training

Click here to go to Vacation Rental By Owner – www.vrbo.com/361376   You can see more information and also our calendar for available dates.
Piggly Pines is located 4 1/2 hours north of LA, 6 1/2 approx. south of the Bay area. It is located in a small mountain community of Ponderosa, CA at the 7250 ft. elevation. Boz and Annie purchased the 14 acres in the Spring of 2001. It is bordered by the U.S. Forest Service in the newly appointed Monument. The facility is on an edge of Kramer Meadow that runs the length of the property. On the other side of the meadow is unlimited amount of trail and fire breaks for trail riding. Come join us and ride among the giant Sequoias, Yellow, Ponderosa and Lodgepole pines and Aspen trees. You will witness the beautiful Aspen trees in their yellow splendor in the fall weeks. During the summer the meadow comes alive with many different wild flowers. Every week brings new and different colored flowers. We hope you can come share the experience of this beautiful place.   You are welcome to visit Boz Saddlery and see us making a custom saddle for one of our customers.  If you have a horse, you are welcome to bring your horse, pens available for an extra fee.
Piggly Pines is available for weddings and private parties, please call for details and reservations.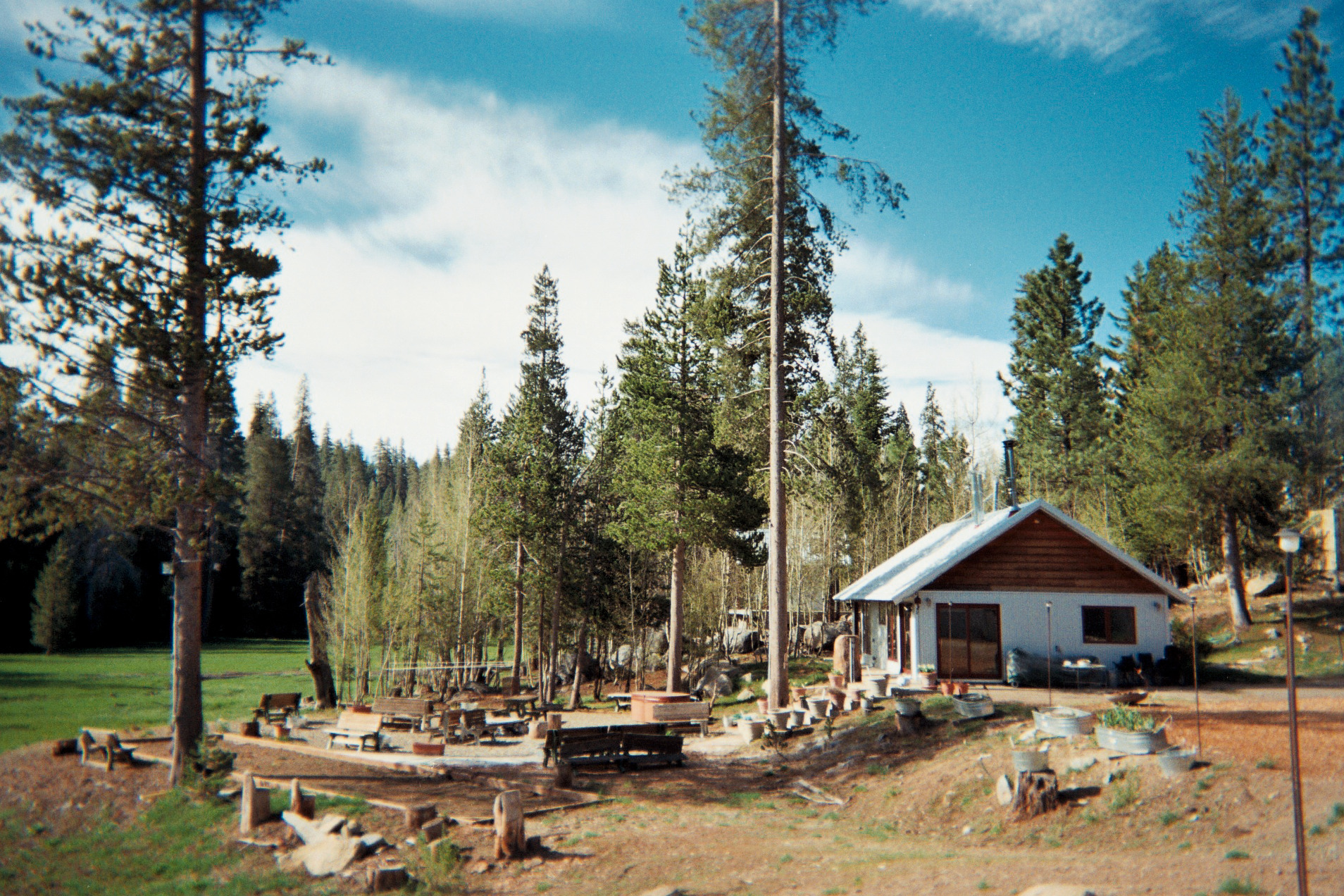 Annie's Piggly Pines , fire pit, boci ball court and Kramer Meadow.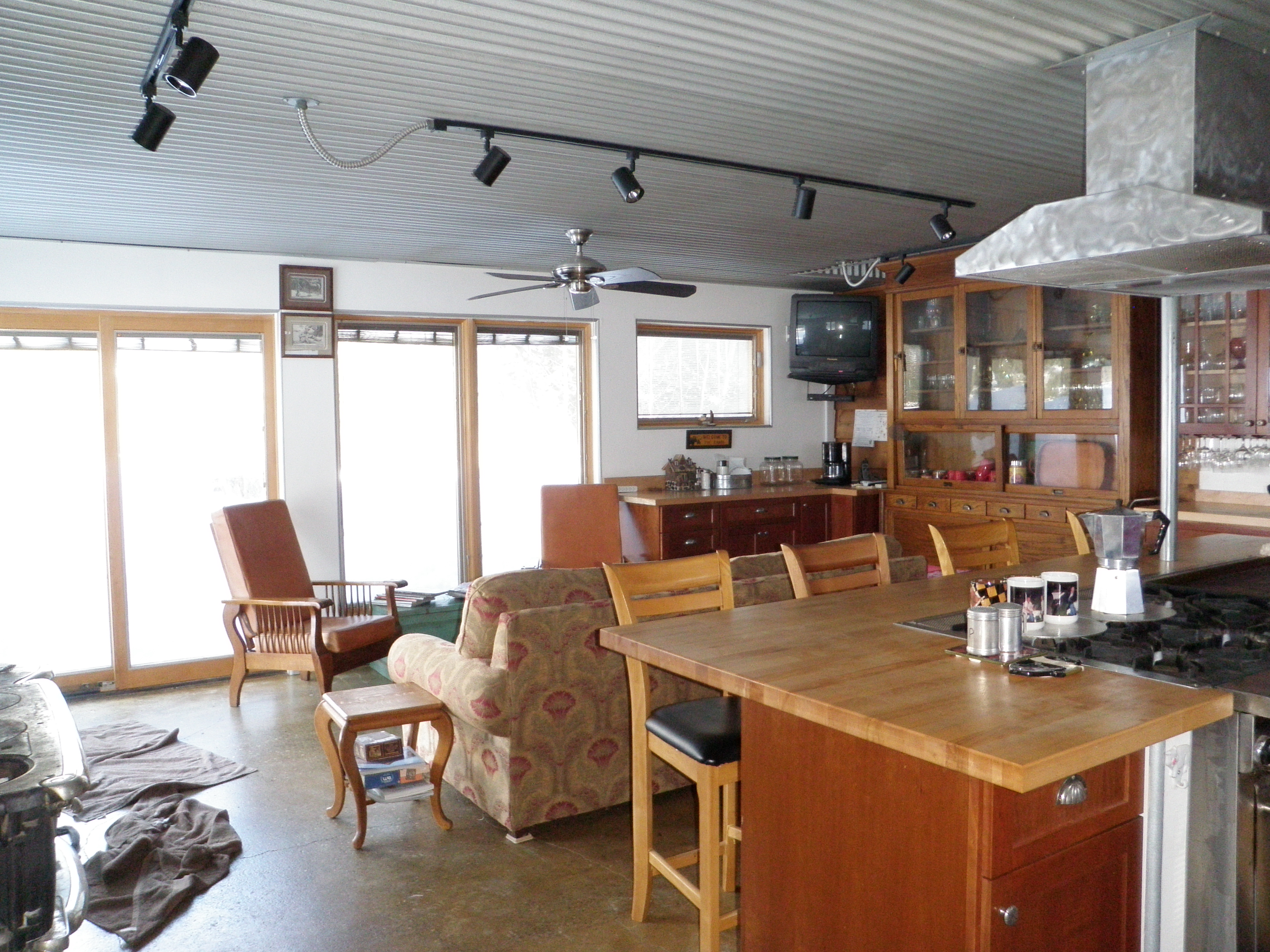 Interior picture of Annie's Piggly Pines Cabin.   Click here for pictures of interior of cabin.  Cabin interior
Piglet Cabin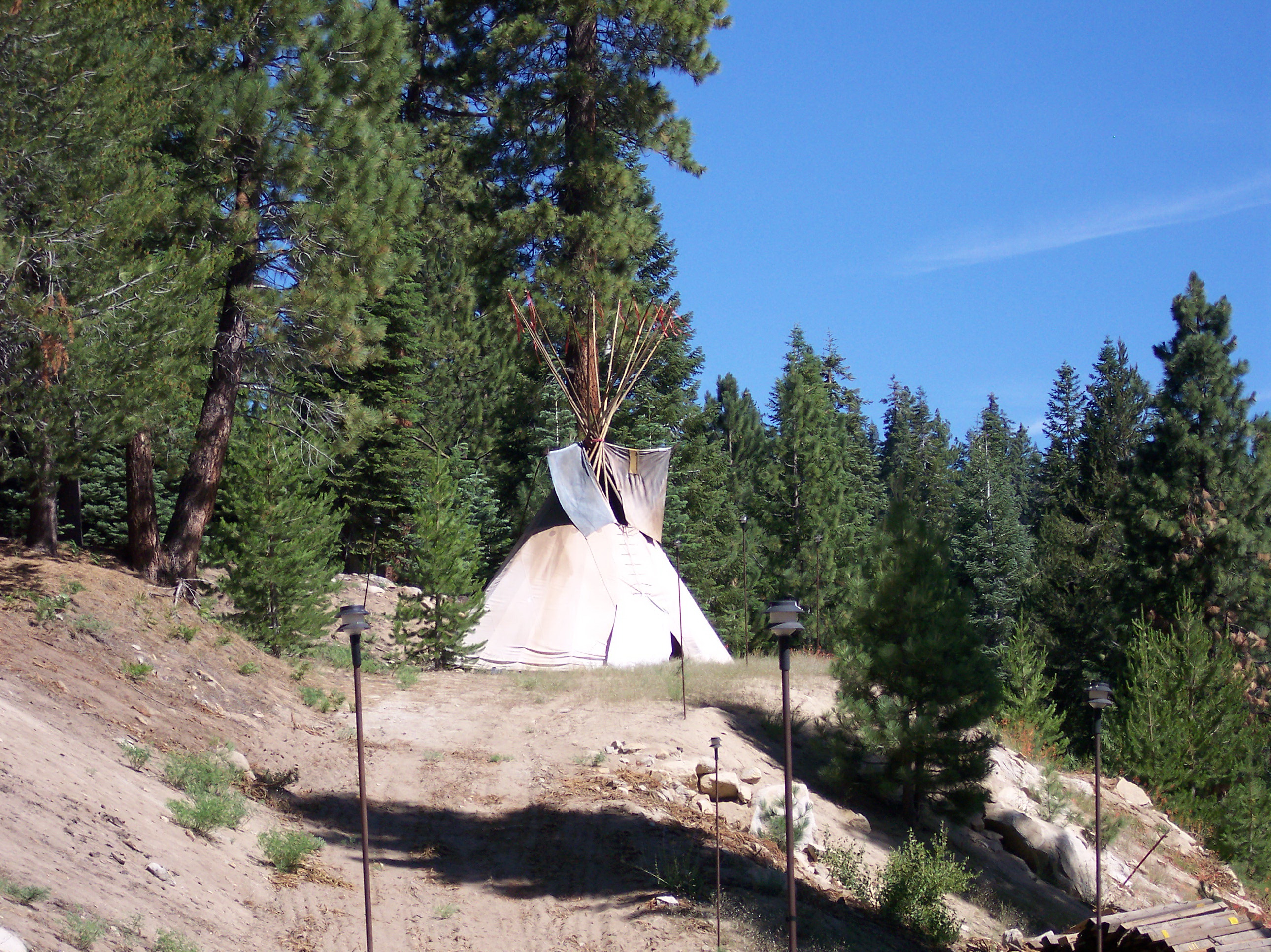 Teepee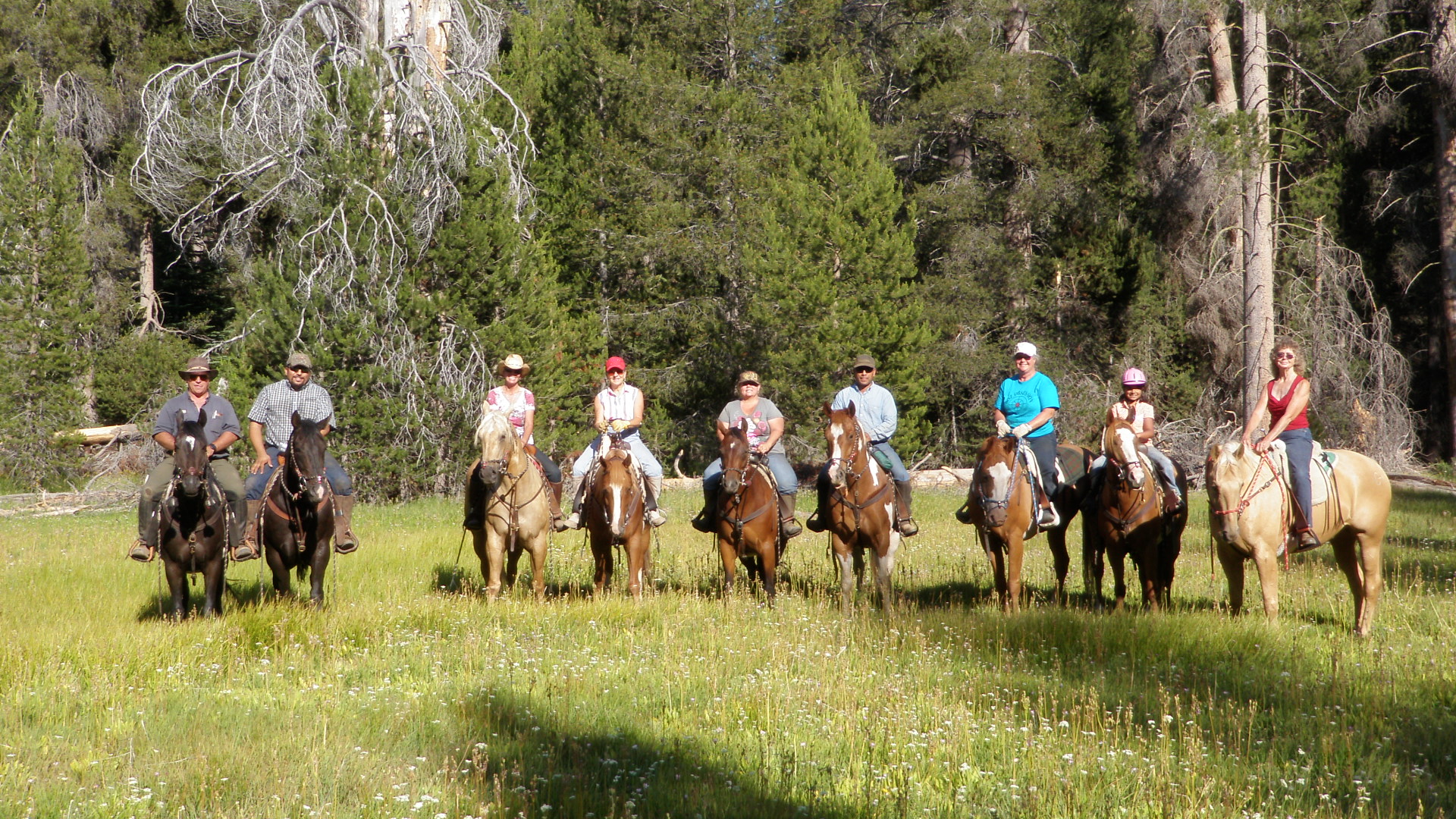 One of the clinic group getting ready to go out on the trail for a ride.  Click  Bozzage Training  below and see more horse pictures
To see more pictures of Piggly Pines and events that take place please click here:  Bozzage Training and Piggly Pines & Events – this link show many pictures of the different times of year and events.  Flowers  more   Pictures
Rental Rates and Options:
Piggly Pines Cabin:  Queen size bed
1 night $200.00 – 1 or 2 persons
2 nights or more:  $175.00  per night – 1 or 2 persons
Extra person:  $25.00
Cleaning fee:  $100.00
Little cabin on the Deck "The Piglet Cabin":  2 twin beds
1 night -  $125.00 – 1 or 2 persons
2 or more nights:  $100.00 per night – 1 or 2 persons (except holidays)
2 or more nights:  $85.00 per night – if also renting the cabin (except holidays)
Cleaning fee:  $50.00
10% bed tax  – Prices are subject to change without notice
ACCOMMODATIONS:

Piggly Pines Cabin:  1 Bedroom/1 bath.  Living area with gourmet kitchen.  TV's in living area and bedroom.  Prior arrangements for  phones or computer access available in cabins.  You may use owners phone or computer hookup on a limited basis.

Piglet cabin:  This little cabin is private and on the deck  amid the Aspen trees overlooking the meadow.  It may be rented in the summer time only, if not part of party renting the cabin.  They share a bathroom in the winter.  In the summer there is another bathroom in the c-train they will use.  This is a shared bathroom with other guests.
Linens and towels provided.  Kitchen is ready to use, it has a dishwasher, commercial double oven range and griddle, side by side refrigerator.  Dishes and pots and pans provided.  You must bring your own groceries.  Please remember we are about an 1 to 1 1/2hrs from a large grocery store.  Ponderosa has a small grocery store as do Camp Nelson and Pierpoint (1/2 hour down the hill).  You will want to try to remember to bring what you need.  Washer/Dryer available for use in Cabin.
Horse camping only:
Self contained:  $25.00 per night for 2 people, $15.00 per night per extra person.
Using our bathroom facilities:  $40.00 per night rig for 2 people, $15.00 extra per person per night.  You will have use of our Bathroom and shower facilities in the c-train.
Full hookup:  $50.00 per night per rig for 2 people, $15.00 extra person per night.  (We only have 1 full hookup site.)
Horse stalls:  1 horse per stall, $25.00 per night, you must bring your own feed and clean your pen.  No portable pens allowed or tying to trailers.
ACTIVITIES:

2010 PPOA (Ponderosa Property Owners Association) Snowday at our meadow, as you can see snowmobiles and in the background one of our group cross country skiing up the meadow.
You may bring your own horse for riding, we have pens available for an additional charge.  You must bring your own feed and clean your pens.  There is no tying your animal to your trailer or putting up your own portable pens.
Piggly Pines is a quiet beautiful setting on Kramer Meadow.  There is easy access to riding/hiking trails, fishing, site seeing (Redwoods) and there is a pack station near by for day rides or pack trips.
Winter time you can snowmobile (either bring your own machine or there are rentals available), cross country skiing or snowshoeing.
If you want to camp, we have teepees available, you must bring all equipment ie: sleeping bags, lantern, towels, etc. , you have will access to the c-train shared bathroom/shower facilities.
Elevation 7200 ft.:  This means we can easily have frost anytime of the year (below freezing 32 degrees).  Remember when visiting the mountains, come prepared for any weather – 80′s or 90′s during the day to below freezing at night.  LAYER- LAYER-LAYER
No camp or cooking fires allowed.  We have a designated fire pit and will have it available when conditions are safe
In the winter time, always carry chains and 4 wheel or all wheel drive is a great option.  Roads are cleared daily but may have ice on them.  Even if you have a 4wheel or all wheel drive vehicle the authorities required you carry chains, if they stop you and you don't have them they will turn you around.  We will not refund your reservation money because of this.
Cell phone service not available – The Ponderosa Lodge has a wireless computer access for those who need to be on their computer for a long period of time.
EATERIES:
If you are planning to cook your own meals, please remember to bring everything, as stated before a fully stocked store is some distance.
Ponderosa Lodge:  Located in Ponderosa is open 7 days a week in the summer and has shorter hours during the winter months.  They serve breakfast lunch and dinner with a full bar and have a small grocery store.
Pierpoint:  Located at Pierpoint:  13 miles down the hill (1/2 hour travel time) is open 7 days a week, year round.  They are open for breakfast, lunch and dinner with a full bar. Tuesday they have family night dinners and are excellent.  It is a set menu for the night and changes each week.   They have a small grocery and post office.
Nelson  Diner:  Located in Camp Nelson 12 miles down the hill (1/2 hour travel time) is open 7 days a week, year round.  They are open for Breakfast and Lunch & Dinner (weekends only).  Thursday they are open for dinner – Family night – Set menu changes weekly.  Also have a full bar is available and open 7 days a week.
Camp Nelson general store and hardware, is next to Nelson's Diner and open 7days a week.
RULES:
This is a non-smoking facility, no exceptions.  If you are bringing pets, (dog or cat), please advise us.  Each request will be taken under advisement.  We have 2 dogs and 1 cat.  If you bring your dogs and they don't get along with ours or cat, you will be asked to leave and no refund given..
If you want to bring your horse or mule, we have pens available with watering barrels.  You must bring your feed and clean your pens.  No portable pens allow or tying to trailers.
No fires allowed.
Cabins and shared restrooms must be left in a clean condition.  Your linens will be done by us.
No dogs on furniture or beds.
RESERVATIONS:
1/2 down at time of reservation, balance due 2 weeks prior to reservation date.  2 week cancelation notice for full refund.  No refund for holidays or special event days, total amount due to reserve the date wanted.    Checks accepted for reservations.  Cash only for drop-ins.
Please call or email us to make a reservation:  559-542-1269 or ann@bozsaddlery.com
Extra charge when using CREDIT CARDS – we prefer a check